Welcome Guest to Musical Images
Sign In

Click Here To Call 020 8952 5535
Sonos CONNECT Wireless Receiver for Streaming Music
What Hi-Fi? 2017 - Best Multi-Room System under £500
Specification
Sonos CONNECT Wireless Receiver for Streaming Music
Turn your stereo or home cinema into a music streaming system.
Brings music streaming to the audio equipment you already own.
Flexible. Features analogue, optical and coaxial digital audio outputs.
Line-in. Plug in any device you desire.
Play your amplified turntable through your Sonos system.
Stream your CDs and LPs to Sonos speakers in other rooms.
Streams over wi-fi, not Bluetooth, so the music never stops – even if you get a phone call.
Bring new life to your stereo.
There might not be anything wrong with your stereo. Or your home cinema. It's just that they don't stream music. CONNECT fixes that. It turns your favourite amplified audio equipment into a streaming machine, so you can keep the stereo you love and play even more music with it.
SET UP OVER WIFI.
Plug in. Connect. Stream without interruptions or interference.
START WITH ANY ROOM. ADD ON LATER.
Play different songs in different rooms. Or the same song everywhere.
CONTROL WITH ONE APP.
Pick a room. Pick a song. Hit play.
KEEPS GETTING BETTER.
Software updates mean the product you buy today will be even better tomorrow.
Engineered for premium performance.
CONNECT streams the music you love without loss of fidelity, and at full CD-quality bandwidth. Adjust the sound to get the bass, treble, balance, and loudness just the way you like it. You can even set it up to control the volume using the Sonos app or your audio equipment.
Sets up easily.
Attach CONNECT to your amplified audio equipment using the analogue or digital outputs. Plug it in. Connect it to your WiFi using the Sonos app for uninterrupted wireless music streaming.
One app. Complete music control.
The Sonos app helps you quickly search through all your services to track down your favourite music, play it and adjust the volume in different rooms throughout the home. You don't even have to be in the same room as a speaker. And if your friends have the Sonos app, they can do the same.
Over 30 streaming services available.
Sonos plays everything: the most popular streaming services, on-demand services, internet radio, your favourite podcasts and audiobooks, your go-to collection of downloads—whatever you love to listen to.
For anything amplified.
CONNECT works with the amplified audio equipment you already own. Like a stereo system, a home cinema receiver, or even a built-in speaker system with a centrally-located amplifier. Plus the RCA, optical, and digital coaxial audio outputs ensure that you can use it with all your equipment.
Grab your aux cord.
Plug in an audio device to your CONNECT—whether it's an amplified record player or a friend's phone—and listen to your favourite music on your existing audio equipment. You can also send the music to any other Sonos speaker in your home.
A Sonos original.
CONNECT was one of our very first products at Sonos, long before stand-alone speakers were even a twinkle in our eye. Back then it was called a Zone Player, and it was designed for all the audiophiles in the world (like us) who simply loved the audio equipment they already owned. And it still is. Plus, thanks to our regular software updates, CONNECT continues to get better and better over time.
Multi-room music.
One room of music is great. But a houseful is even better. That's the power of the Sonos Home Sound System. Fill more rooms with music by simply adding more Sonos speakers and components. They all work together seamlessly so you can play different songs in different rooms, or the same song everywhere.
Play music from Spotify straight to Sonos.
Enjoy all the personalised Spotify playlists and other listening features you love and more, streaming in perfect sound on your Sonos speakers, without needing to open your Sonos app.
Specs
Audio
Auto-detecting analogue (RCA) line-in connection.
Audio line-out. Analogue (RCA), digital (optical and coaxial) for connecting to your amplified audio equipment.
Adjustable bass and treble controls to optimise sound performance. Adjust volume by individual room or by groups of rooms.
Physical
Dimensions - H x W x D: 2.91 x 5.35 x 5.51 in. (74 x 136 x 140 mm).
Weight: 1.5 lbs. (0.69 kg).
Product finish: White, high-quality polycarbonate material.
Side panel buttons & light: Volume and Play/Pause buttons. LED indicates Sonos component status and mute status.
Power & Networking
Power supply: Auto-switching 100-240 V, 50-60 Hz AC universal input.
WiFi, not Bluetooth: Connects to your home WiFi network with any 802.11b/g, 2.4 GHz broadcast-capable router for uninterrupted wireless streaming.
Ethernet ports: Two 10/100 Mbps Ethernet ports to connect to a wired home network and bring standard Internet connectivity to other devices.
System requirements: Amplified audio equipment with analogue or digital audio output. Broadband Internet in your home.
Contents
Sonos CONNECT, power cord, flat Ethernet cable, RCA stereo audio cable, stereo mini (male) to RCA (male) Y audio cable, Sonos QuickStart Guide, and Legal/Warranty information.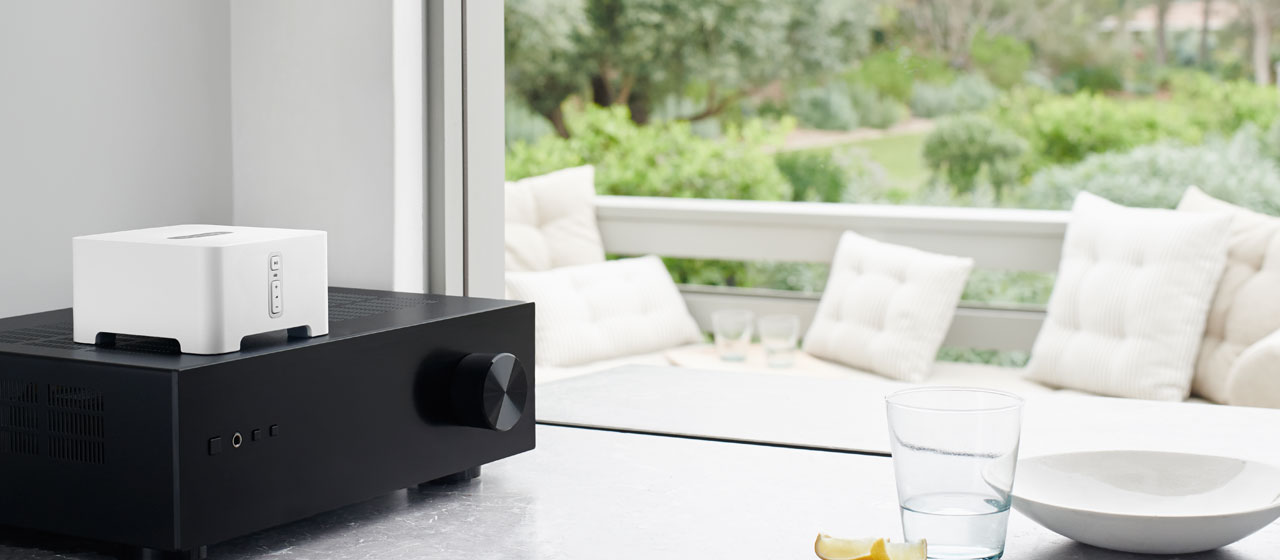 Similar Products
Multibuy Savings
Multibuy Savings
If you're looking for a Multibuy saving deal on 3 or more items, we can usually offer you a discount on our already competitive prices.
Simply click the Multibuy Saving button on any product page to build up your list of required products. Once you have built your list, please confirm your required quantities, complete your details and click the "Request Quote" button.
We will contact you by telephone or email within 48 hours to advise you of our best price.
Buying three or more items?
Click the "Add this product" button to add this item to your list and we'll get back to you within 24 hours. Alternatively, please email us on websales@musicalimages.co.uk.
Request Quote

Recently Viewed
Popular Searches
Shop By Brands
Shop By Categories
Here to Help
Company Info
Call us on 020 8952 5535

Email us websales@musicalimages.co.uk
Delivery & Returns